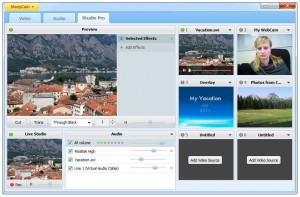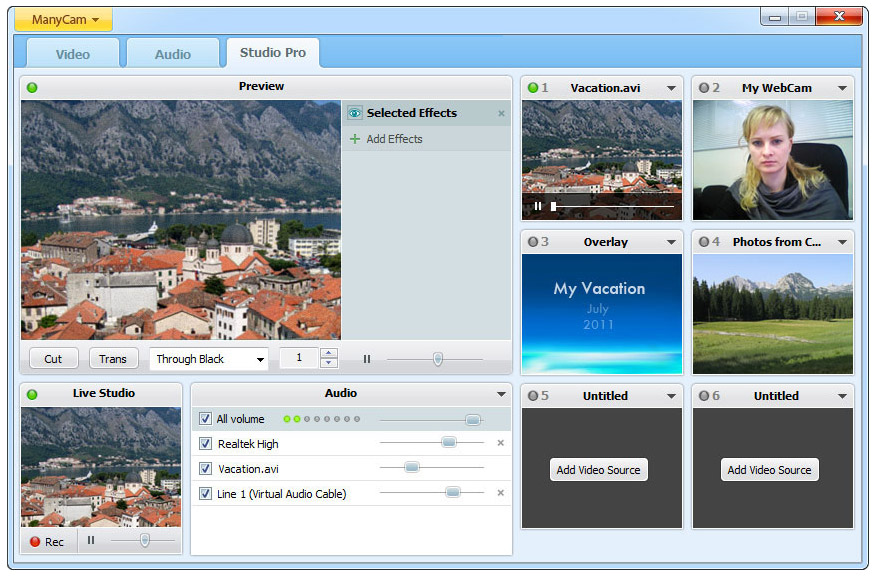 We are excited to finally announce ManyCam 3.0 for Windows.  This major new ManyCam release has awesome new features including a Pro video switcher under the new "Studio Pro" tab, a new "Audio" tab with audio sound effects and a voice changer, HD video support for broadcasting, the ability to record video and audio to your hard drive (free), major frames per second increases, resizable picture in picture, and awesome new audio and webcam effects in our effects library.  I'm sure you also noticed that we updated our entire ManyCam website.
Pro Video Switcher – ManyCam's Pro Video Switcher allows you to easily switch between multiple audio or video sources.  Go to the "Studio Pro" tab and click "Add Video Source" under source #2.  Now you can easily switch between video sources.  Click "cut" to quickly cut to another source and "trans" to add a cool transition effect between sources.  You can also click "preview" to view your video in a larger video window before switching if you are a ManyCam Pro user.  Upgrading to ManyCam Pro also allows you to have full access to all 6 video sources.  You can use one video source as another webcam, another as your desktop so users can see how you are using your computer, another as a movie, a TV card, and any other type of source that's available in ManyCam.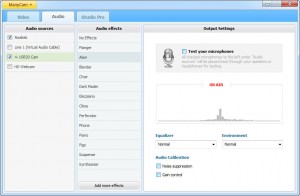 ManyCam Audio Effects – ManyCam now supports audio along with new audio effects.  Change your voice into a robot voice, or add an awesome environment to make it sound like you are in a concert hall.  Upgrade to ManyCam Pro to mix different audio sources simultaneously.  Play music in the background while you talk on mic.  Pro users also get access to other cool audio effects like "alien" or "phone".  You can broadcast your ManyCam audio through any application like Skype, Youtube, Justin.tv and all others, just follow our ManyCam application guide.
HD Video Support – Do you use ManyCam with an HD webcam and an HD software like Skype, Youtube, Ustream, or Oovoo that supports HD video?  Now ManyCam also supports HD video broadcasting.  To broadcast in HD make sure you are using an HD webcam then go to the "Video" tab and then under "Image Settings" find the pull-down menu that says "No force size".  Now choose an HD resolution there that your video hardware supports like 1280 X 720.  Now you're broadcasting in HD!  You can broadcast your ManyCam HD video through any HD application by following our ManyCam application guide.
Record to Hard Drive – Now ManyCam allows you to record video to your hard drive.  Go to the "Studio Pro" tab and click the "Rec" button at the bottom left.  Once you record a video you can choose to use it as a video source inside ManyCam under "Studio Pro".  We currently allow saving video in the new open WebM format.  WebM is supported by most modern browsers and Youtube, and you can use video converters to convert the video to other formats.  We're working hard to add more video saving formats to ManyCam ASAP due to user requests.
New Pro Webcam & Audio Effects – Check out our new ManyCam Effects page.  ManyCam Pro users get access to even more cool audio and video effects.  ManyCam users can still create their own custom effects and submit their effects to our library as always.
Upgrade to ManyCam Pro – ManyCam still has all the same free features you are used to having, plus more free features like video recording, audio features, basic webcam switching and much more!  If you plan to use ManyCam a lot then we recommend you upgrade to ManyCam Pro.  ManyCam Pro allows you to unlock all video sources with the "Studio Pro" tab, remove the ManyCam Studio Pro watermark on the second video source, preview your video before switching it live, activate ManyCam audio effects and audio mixing, plus get access to ALL our new Pro video and audio effects!  Upgrading to ManyCam Pro supports future software development and features.
ManyCam also has hundreds of new small features added to our 3.0 software.  We are working hard to continue improving the software and adding more features.  Please let us know what features you think we should add in the comments of this Blog.  Due to changes in the Mac OS X Lion OS we are having trouble making a new version of our Mac software but we're trying our best and we have not forgotten the Mac users.
We waited a while to officially announce ManyCam 3.0 to make sure everything would go smoothly for users but if you are having a problem with the 3.0 update please contact us so we can collect logs from you and fix your problem.  We'd like to thank all our ManyCam 3.0 users who helped us fix problems and release several updates before we officially announced the software to the world.
Thanks for all your support and we hope you enjoy this major new software update.
Sincerely, The ManyCam Team
Download ManyCam 3.0 – Upgrade to ManyCam Pro $49.95 – ManyCam 3.0 User Guide