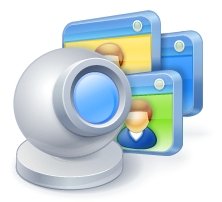 ManyCam version 3.0.79 is now available for download.
ManyCam is now translated into 18 languages. Choose your language from the top left "ManyCam" menu. Some of the new languages include Chinese, Danish, Dutch, French, German, Italian, Japanese, Korean, Portuguese, Russian, Spanish, Swedish, and Turkish.  Notice any translation problems?  Please let us know via the helpdesk or Blog comments.
What else is new?  Along with translations  many of you ManyCammers have requested an audio playlist.  Go to the ManyCam "audio" tab to see your wish has finally come true.  It's now also possible to save your recorded ManyCam videos in the .AVI or .MPG video format.  Another new feature allows users to drag their picture in picture video window outside the video window.  To see the full list of new 3.0.79 features visit our Windows software change list.
Download ManyCam 3.0.79 –  ManyCam 3 User Guide