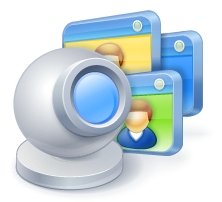 We are excited to announce the release of ManyCam 2.5, please download it now. We have made numerous improvements and introduced several new features along with making major enhancements to ManyCam's video output module which have increased the application's stability and reduced CPU and memory usage. Below is a summary of the most notable new features.
Picture in Picture
With ManyCam 2.5 you can broadcast video from two sources simultaneously. Enable the Picture In Picture mode to create a small video window inside the main one. For the second window you can select a separate input source. You can also move it around by Drag&Drop. Now you can use your webcam as the main video source and show your desktop in the smaller window at the same time. Or, if you have two webcams, you can broadcast video input from them simultaneously.
Recording Video Output
With ManyCam 2.5 you can record your video output (including ManyCam effects) and save it as a file. Just click the red record button, type a name for your video file and choose the location where it will be saved. With ManyCam 2.5 you can also pause and resume video playback with a single click.
Playlists
Now it's possible to make a playlist consisting of numerous video sources that will play one after another. If you want to broadcast several video clips, you no longer have to select them one after another. You can include any video source in a playlist (a web-cam, a video file, a snapshot or even blank image) and set for how long it will play before switching to the next playlist item.
New Cool Effects
In ManyCam 2.5 we have introduced several new cool effects! These new effects are Night Vision, Thermal Vision, Cartoonizer, Matrix and Old Movie. You can find them under the Effects\Effects tab.  Please try them and let us know what you think.
Detailed Change List – New 2.5 Version User Guide