Don't have a live video marketing strategy yet? You're missing out, but it's not too late.
Are your competitors all doing the roughly same things you are to increase awareness and sales? The truth is, it's hard to reach potential customers online, stand out in the crowded search results, and grow online. Unless you have live video and an effective live video marketing strategy.
In this blog post, we dive into the most relevant live video stats and how this medium can impact your online growth. We also take you through the different live video formats you can produce and how to decide which one's best for your strategy.
Why do you need a live video marketing strategy? – Live video stats
In the constant search for lead generation and sales increase, marketers and businesses cannot ignore videos anymore, particularly live videos.
Content creation has proven itself to be the best way to reach potential customers, grow businesses, and increase revenues. But, the amount of content out there is terrifying, especially considering that only 0.78% of users go beyond the first result's page on Google searches.
Relying solely on articles and social media posts makes it hard for you to stand out. Here is why video should be part of your marketing strategy:
Live video, your golden ticket
Live video can be your golden ticket to reaching your target audience when you consider the following live video stats:
80% of viewers prefer to watch a live video from a brand than read an article. (Livestream)
82% prefer live video from a brand to social posts. (Livestream)
Viewers spend 3x more time watching live videos than videos on demand (Social Media Today)
For more on the differences between Live streaming vs videos on demand to grow your business, check out this blog post.
One of the most significant advantages of video is its shareability. When your goal is to expand your reach online and grow your brand, creating shareable content is critical. In fact, users are 39% more likely to share videos than other content forms.
Ways for your business to use live video
Regardless of your industry, there are many ways to use live videos to your advantage. Your goals and resources should guide your decision on what's best for your live video marketing strategy. 
Q&A Format
Perhaps one of the most popular live streaming formats is Live Q&As. This format requires minimal equipment and resources since it's mostly a conversation with your webcam. The idea behind answering questions from your audience is maximizing interaction and creating a relationship with them.
The best thing about the questions-and-answers format is how little preparation it requires, apart from the usual live streaming setup.
Live Q&A quick tips:
As with most types of live content, make sure you promote your Q&A session in advance.
Encourage your audience to send in questions in advance so you can go in somewhat prepared but be ready to answer live questions too.
Ask your audience questions too. This interaction is an opportunity to learn more about them.
Announcements
Another fantastic way to make live videos part of your video marketing strategy is to broadcast your product launches, and important announcements live. The advantages of this strategy are the immediate engagement and the fact that viewers are more likely to share video content.
The shareability, when combined with the heightened organic reach of live video, means your announcement has the potential to go beyond your current audience.
Just like Chevrolet did on this Facebook Live, which got them 454 shares and 59k views: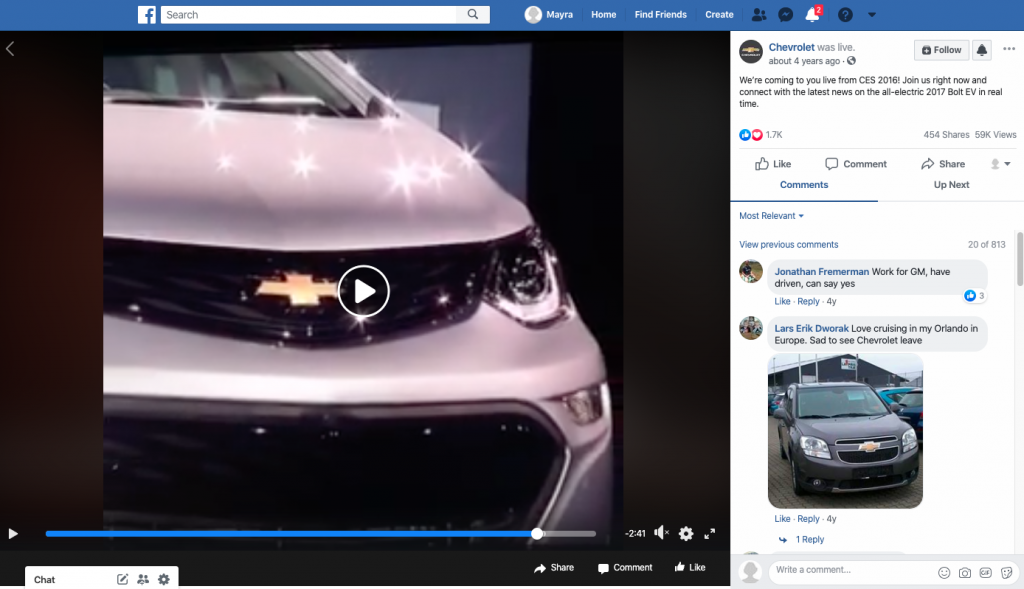 Interviews
One of the most compelling live video formats is live interviews. You can invite partners and relevant experts from your industry to be part of your live stream. This is a fancier version of the Q&A session mentioned above.
Interviews help raise your expert status in your field, especially when you bring in other experts. They also allow you to tap into the interviewee's audience. This format gives you the benefits of live videos combined with the advantages of video collabs.
On the other hand, producing live interviews require scheduling and preparation. That being said, if you want to boost your online reach, weekly interviews can be exactly what you need. After a few weeks, you'll get some momentum, and producing them will be much easier. 
Live events
A common and yet effective live video strategy is to stream industry-related live events. A few ways to go about this would be:
Spontaneously live stream your participation as an attendee to significant events
Document and stream important developments during the event
Be a speaker or part of a panel and live stream your participation
Interview other attendees and create new partnerships
Another way would be to create your own event, invite participants, and live stream your entire event. This option is by far the most expensive, but it can help you establish your authority in your industry. Plus, the live streaming element allows you to expand your audience beyond smaller venues.
Event copyright issues to keep in mind:
If you are taking part in someone else's event, make sure you have the proper authorization to live stream whatever you intend to. Otherwise, the organizers can report your live video.
Many events play popular music in between segments or keynotes. Platforms such as Facebook can detect copyrighted songs and take down your stream because of it.
Behind the scenes
An audience favorite is the behind the scenes sneak-peek. Blooper videos, behind-the-scenes footage, and videos about the process behind the products are among the most viewed videos on YouTube. As human beings, we love to meet the other humans behind the curtain and know how things happen.
According to a survey on live video, conducted by Livestream and the New York Magazine, 87% of people would choose to watch more live videos from brands if it meant they would get more behind the scenes insights.
BTS gives your audience an inside look at what your brand is all about. The audience wants authenticity. Behind the scenes live videos are an effective way to establish a deeper connection with your viewers.
Live webinars or online Masterclasses
Depending on your industry, one practical way to create your live video marketing strategy is to consider doing monthly webinars or masterclasses. Most businesses can come up with some topics for a live masterclass that would deliver a lot of value for their viewers.
Webinars are an amazing way to generate new leads and grow your audience if you have the time and resources to create them. Here are some of the resources to consider:
Create the content for the webinar
Develop a slide deck presentation
Add extra resources to get your message across (images and videos)
Live streaming equipment (computer, camera, microphone, lighting)
How long should you live video be?
One important thing to keep in mind when building your live video marketing strategy is that, unlike videos on demand, live streams are a longer content form. When Buzz Sumo analyzed 100 million videos on Facebook, they noticed that engagement rates increased at the 15-minute mark on live videos. After 20 minutes, they remained stable.
With that in mind, going live for less than 15 minutes might not be worth your time. If your goal is to optimize your marketing strategy, then aim for live videos longer than 15 minutes.
How to create your live video marketing strategy?
The best live video marketing strategy is the one that fits your business. Like any other form of content creation, live video requires time investment more so than monetary investments. With some live streaming content ideas in mind, you can decide what fits your reality.
With an initial schedule at hand, you can get ready for your first live stream. Don't forget to promote your live video. 
The secret to a successful live video marketing strategy: Consistency
Live video can bring you amazing results in growth and online reach, as well as lead generation and sales, but it's not a one-off kind of deal. Similar to most content production endeavors, live streaming requires consistency. This means you need to create a live video schedule for your business.
The optimal schedule is hard to determine. We suggest doing tests and analyzing your audience's response. The formats that seem to work well online are weekly shows or fortnightly.
Key Takeaway
The key takeaway when it comes to creating your live video marketing strategy is to find the schedule and content formats that work for you. If you want to keep it simple, start with weekly Q&As and go from there. At first, it might be challenging, but it will become easier each time you go live.
There's a lot to cover on live video marketing strategy. That's why we'll continue on the topic on another blog post, in which we'll talk about live video equipment, how to produce high-quality live videos, and the repurposing tactic, among other things.
If you need live streaming software to help you produce high-quality and professional-looking live videos, ManyCam is here to help.
Get it today with a special discount!
What does your live video marketing strategy look like?


Want to learn more about live streaming?
Live streaming videos can be captivating when you have the right tools. This live streaming software guide can help you live stream like a pro.  (Continue reading)
Live video can be one of the most cost-effective marketing tools for businesses. The entry cost is low compared to other video endeavors, and the heightened engagement helps build relationships that lead to sales. It's crucial for your business to apply… (Continue reading)